September 2014 Favorites
Hello Sunshine! After sharing my empties for the month of September, I think it's just right to also share my favorites. This month, my
September favorites
includes items I've literally been inseparable with... most of them are pretty basic, but I'm not basic, YOU BASIC!
haha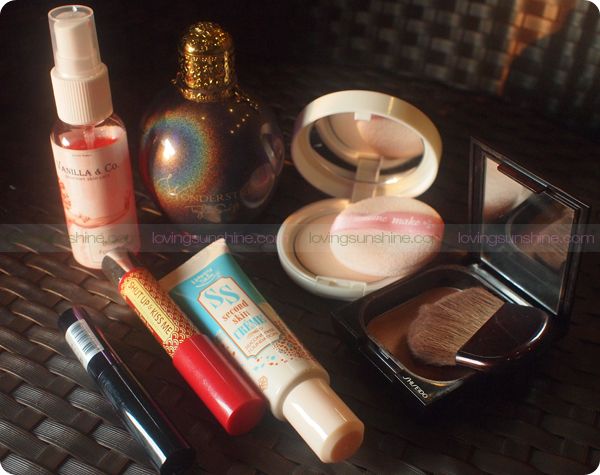 Vanilla and Co Blushing Foot Spray
Pretty much the secret to having
donya
feet, this blushing foot spray feels and smells great when applied. It's very cooling, and is perfect to use after a long day.
Taylor Swift Wonderstruck fragrance
Click the photo to buy this item.
Love this Taylor Swift scent because it's a very young and innocent fragrance, yet it has a pretty interesting mystery to it when it dries down. Of course, the part where it's Taylor Swift's fragrance also doesn't hurt.
Click the photo to buy this item.
I LOVE this smooth clear mineral compact. It really helps keep the shine away. Plus, it leaves a really soft and bouncy touch to my face!
Shiseido Bronzing Powder in 02 Medium
If there could be a bronzing powder made specifically for me, it would look like the Shiseido Bronzing Powder in 02 Medium shade. It's very subtle, and pretty to wear. Not to forget, slimming!
Happy Skin SS Creme in 02 Natural Beige
Happy Skin has really great products, and their SS Creme is included in that line up. It really feels like second skin; while also offering great coverage that lets the skin breathe! I mentioned this
SS creme here
!
Happy Skin Shut Up and Kiss Me in My First Time
This is a red that demands attention. I have been loving this because it is the type of red that's in between fierce and vampy.
VOV Span Mascara
Imagine the strength and flexibility of spandex in a mascara formulation, and you'll end up with VOV Span Mascara. I just got mine from Sample Room, and I've tried it quite a lot--it's great! I will be repurchasing this item.
What do you think?
What are your September favorites like? Leave a comment below to share them with me.