September 2014 empties - part 2!
Hello Sunshine! Just when you thought I'm done with my
empties post
, you're wrong! Remember when I told you that September is a product empty-filled month, I meant it very very much. Here's part two! Click for the
September empties part 1
:)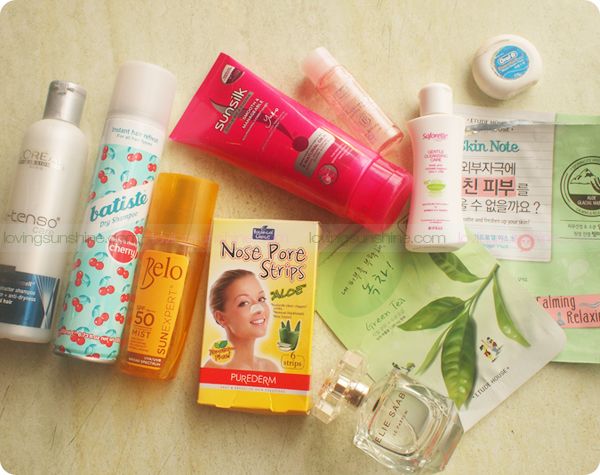 I worked pretty hard to finish my bottle, not because it wasn't good to wear, but seriously, because one spritz of this perfume and you're good to go! I don't need a lot of re-application to smell good whenever I use this perfume--so yes, it was pretty triumphant when I finished my bottle.
Then again, at the same time, I was sad to have finished my
Ellie Saab Le Parfum
...
Can't Let Go: L'oreal Xtenso Shampoo
I already repurchased this shampoo prior to me emptying it out... that's how much I love this shampoo. I use it 1-2 times a week to give me some professional wash at home!
Shop my favorites! Click the photos to start shopping! (not sponsored)
So-So: Belo SunExpert Body Spray
September was the month of learning to apply SPF, that I can't deny. And while I leave the month with a religious SPF habit for the face, this body spray wasn't that effective in teaching my the art of sun protection for the body. It was great for swimming but for every day use, I wouldn't recommend this... It wasn't
presko
to wear.
I know, I know, is there a body sunscreen that is
presko
even... well, I would love to hope that the answer is yes!
What do you think?
Let me know through the comments if you've tried these products before!