Different Ways of using Alcohol for Every Day Life!
Hello Sunshine! Here's a little trivia. I joke that I'm the
kaladkarin
friend! I try to say yes to impromptu
eklavu
more than planned trips. So if there's one thing I just have to have in my bag, it's trusted Hygienix*. I discovered
Hygienix
through
SampleRoom
, and since I've gotten a batch of their entire range (I presume), I realized how their alcohol is the alcohol to have. Maybe by now you're thinking, how much talk can one person have about ethyl alcohol? Well, here's where my obsessive nature kicks in.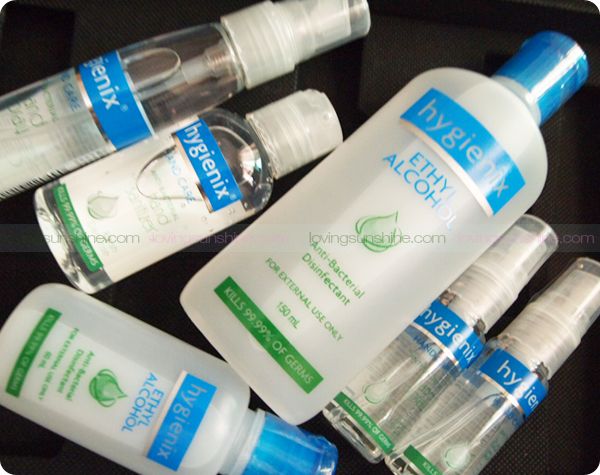 Before, I base my sanitizer or alcohol choices based on scents. I wanted them to be fruity or floral! Now, I realized I prefer the more antiseptic feel to my sanitizer or alcohol. It makes me feel cleaner!
Using alcohol for every day
can be very extensive! Continue reading to check out my list!
You can clean your desk with it. Spritz away and just wipe with a tissue to make sure that the dust or dirt that gathered on your desk (say over the weekend, or after a leave) is cleaned out.
Clean hands (obviously)
Alcohol when in a spray bottle can be used to easily and conveniently sanitize your phone. Especially for those with touchscreen phones, you can't neglect this part.
Aside from your phone, you can also sanitize your laptop or tablet with alcohol. It dries fast so you don't end up with water stains on your gadget.
Hate the cream used on you after a manicure? Strip the oily film off with an alcohol!
Broke your face powder, blush, or eye shadow? Rehabilitate it with an alcohol! Just pour a small amount, and re-press the makeup. When it dries, it'd be good as new!
When using a public restroom, spray on some alcohol on the seat then wipe with tissue. This way, you get to pee in peace!
You ball pen or pentel pen dried up? Dab it on alcohol and watch it come back to life!
Aside from your pen, you can revive your dried up wet wipes with alcohol too--because yes. Sometimes, we leave the flap open!
If you're looking for a non-drying alcohol option, make sure to give Hygienix a try. They are great for all the above quirks--but for basic sanitation, they're pretty awesome! They smell good (not like a clinic haha) and their alcohol (in all formats) are not drying to the skin.
What do you think?
Have other alcohol tricks? Share them through a comment!