Facial Wax Virgin No More -- Waxbar Malingap
Hello Sunshine! Have you ever considered removing the tiny fine hair that covers your face? Well, I didn't myself; but after learning about the benefits of having a fuzz-free face (and learning that the likes of Cleopatra and Marilyn Monroe went bare as well) I figured, why not?
So I went off and had me try my first-ever
Facial Wax
at
Waxbar
Waxing Salon, located at 39 Malingap Street, Teacher's Village, Quezon City.
There's a new kid in town...
I never thought I would say this, but getting a facial wax really helped me enjoy my skincare routine more. My face was definitely rosy and baby-smooth!
It was my first time to hear about such service. Who would want to wax off the fine hair that covers the face? I sure don't have much problem with mine. I'm good with just cleaning off my mustache, cause yes, I-is-a-pretty-boy!
Anyway, but when my good friend Raisa invited me to try their services at
Waxbar
, and I read "facial wax" I just had to. I was so curious. Of course, I had to convince myself that it's alright, it's safe. I was very hesitant, yes. But I trust Raisa so I took a leap of faith and trusted Waxbar with my face as well!
My private waxing session happened here. :) So clean and hygienic, their service rooms.
Good thing I did. It was such a eureka moment. Waxing your face can be such a feat, and it completely changed the way I see skincare.
You see, the hair on your face serves as a protective barrier. And while it's there, no matter how much skincare you apply, you don't get maximum benefits. That's because your facial hair prevents it from getting absorbed fully. So a facial wax is definitely a idea. Not only will it extend the mileage of your skincare, it also reveals younger rosier skin in an instant! Think of it as a dermabrasion, only that you don't scrub away dull skin, you strip it off
along with unwanted facial hair.
When you get rid of your peach-fuzz, makeup also adheres better on the skin. Because the face is hair-free, makeup leaves a smoother and more velvety finish upon application.
Don't worry. They use the most gentle lavender scented Lycon wax for this treatment. It didn't cause me any irritation, and I would jump on in and say, it actually felt good when applied on the skin. It was relaxing :)
Somehow, the wax strips also removed unsightly blackheads and whiteheads too! Sushal 'di ba?
The service starts off with a facial to remove dirt, makeup, and oil--since you need an oil-free face for the wax to adhere to even the finest hair on your face. Then, the therapist would test the wax on you, and by that time, you get to give your insight whether the wax is too warm or good to go. With your green light, the waxing service shall begin. It took me around 30 minutes to complete my service, and I think for all the benefits (removal of blackheads and whiteheads; stripping of dry and dull skin) that was a well-spent 30 minutes.
Here are my before, during, and after photos.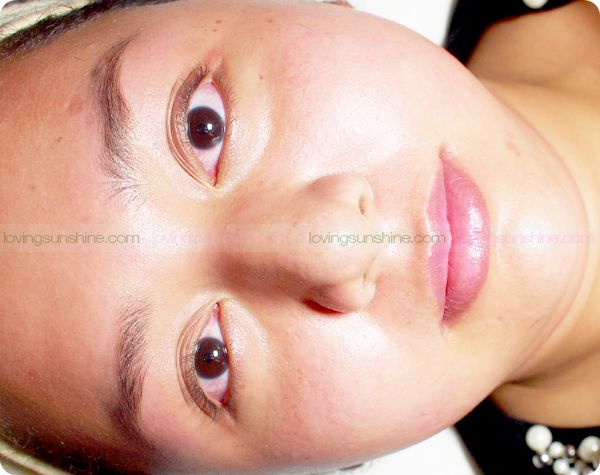 My eyes were kinda red because I cried... not because of the face wax, but because I had eyebrow threading which is a weakness of mine! haha
Seriously... my skin was definitely brighter, lighter, smoother, and OMG look at that rosy glow!
What do you think?