October 2014 Favorites
Hello Sunshine! From
October empties
, let's go to my
October favorites
!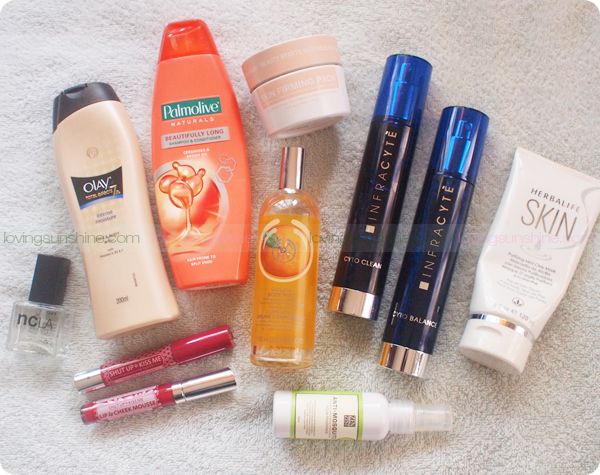 This month's favorites is mostly skincare, but I managed to put in a few makeup items because well, last month was Happy Skin's birthday month and OMG I went crazy in
dating
their products. In fact, here are a few posts you should check out to stay update with what's new with Happy Skin!
Happy Skin Shut Up and Kiss Me Honeymoon Glow
Happy Skin Shut Up and Kiss Me Just Say Yes
Happy Skin Eye Am Here to Stay limited edition set
Happy Skin All Eyes on Hue eyeshadow palette
Happy Skin The Forbidden Fruit set
Happy Skin Shut Up and Kiss Me My Guilty Pleasure
Happy Skin Save Room for Dessert Holiday collection
That said, let's start with my makeup faves!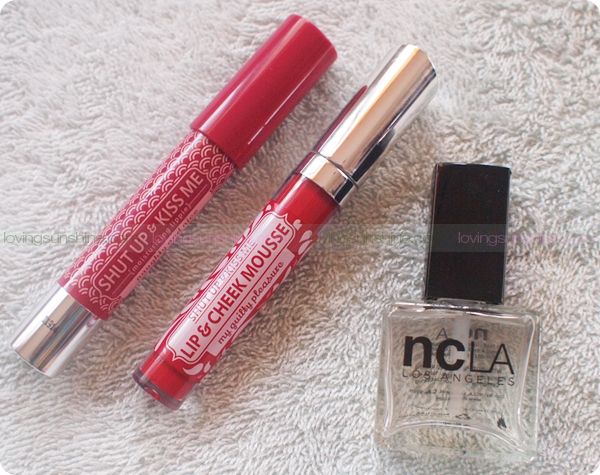 Happy Skin Shut Up and Kiss Me*
- Judging by the number of Happy Skin Shut Up and Kiss Me items I used the previous month, it's safe to say that I'm a Happy Skin Beauty! Anyway, I've been loving the shade Naughty and Nice for everyday use. Love the berry mauve shade it leaves. On the other hand, for days that require a classic red lip, I use My Guilty Pleasure. This lip and cheek mousse is superb! Though I have to admit, I use it for the lips only. I'm not a blush person!
NCLA Gloss It!*
- I've been using this clear polish as a base coat and top coat for months now, and I can't believe I'm not yet halfway through my bottle! This polish requires minimal application so wearing it on my nails doesn't feel heavy at all. I also love this as a base coat because it truly doesn't leave nail polish stains on! Grab your dose of NCLA on Ava.ph, PolishPlease.ph or Plana Forma!
Now for some Shower Treats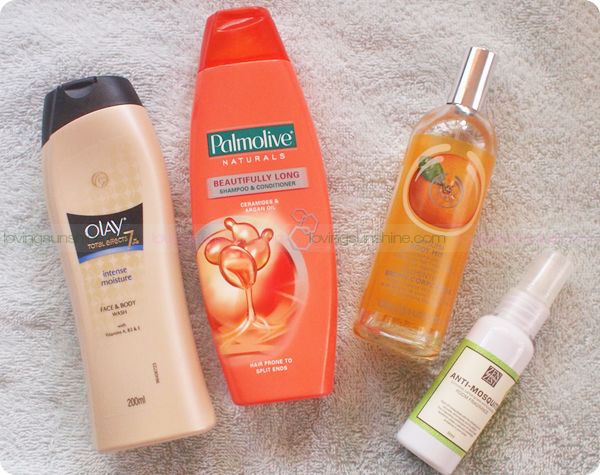 Olay Intense Moisture Face and Body Wash*
- I mentioned this item in my empties post for good reason, it's my favorite body wash of October! I love it so much. This is a body wash that truly moisturizes as you cleanse. Try this is you love creamy washes.
Palmolive Naturals Beautifully Long Shampoo*
- I am an Intense Moisture and Silky Smooth Palmolive Naturals girl, so it was a very pleasant surprise to have found this new variant in my regimen. As with all Palmolive Naturals haircare, this is ever-so-fragrant!
The Body Shop Satsuma Body Mist
- I got this because I have a thing for orange (as a color). I also wanted a straight-up citrus fragrance for days when I want a perk me up scent. This totally did just that! I've been using this nonstop especially when I was hospitalized. Well, cause you know on those days I couldn't bathe, I still wanted to smell fresh!
Zen Zest Citronella Anti-Mosquito Spray*
- For home scents, I love citronella. It sits next to Peppermint as my go-to home scents. It always gives me a spa-vibe. Now, this Zen Zest number is that spa-vibe in a spritz! One to two spritz of this product in a room is enough to embrace you with the relaxing fragrance of citronella!
Last but not the least, my favorite face items!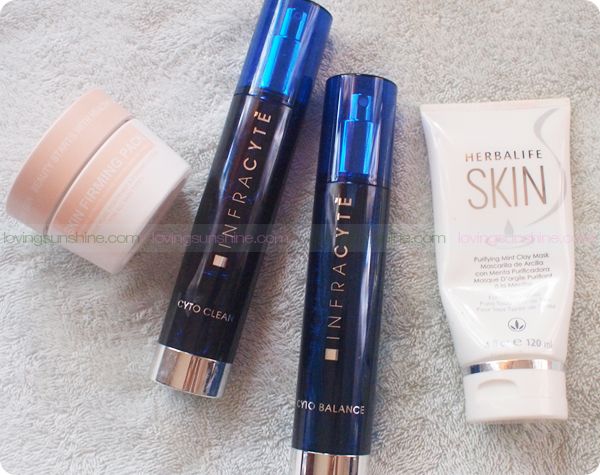 Mores Skin Firming Pack*
- I got this from my
Sample Room
family. They sampled this out few weeks ago, but I only got to try it last month. I think it's a very unique item, which you should expect to be reviewed here soon! For now, just want to share that I've been loving this product for my facial massages.
Infracyte Cyto Clean* and Infracyte Cyto Balance*
- It's my first time to try Infracyte last October. I tried it immediately after I finished my
Pevonia
facial wash. I still have my Citrus Polishing Cleanser from Herbalife, but I wanted a facial cleanser that had the same consistency as with
Pevonia Phyto-gel cleanser
. That I found in Cyto Clean. Infracyt Cyto Clean is super gentle and odd enough, it smells like a baby wash for me!
haha
I love it because when paied with the Infracyte Cyto Balance (spray-type toner), my skin feels genuinely healthy!
Speaking of Infracyte, don't forget to check out my Infracyte Luscious Lips review!
Herbalife Purifiying Clay Mask*
- Last month, I became more religious in using my Herbalife face mask because I wanted to take advantage of the upcoming cooler evenings to tighten my pores. I review this item
here
, alongside my
full Herbalife Skin routine
.
How about you? Emptied any item this month?