October 2014 empties
Hello Sunshine! I want to welcome November with my
October empties
! Last month's empties are an equal share of hair and body care. Check it out!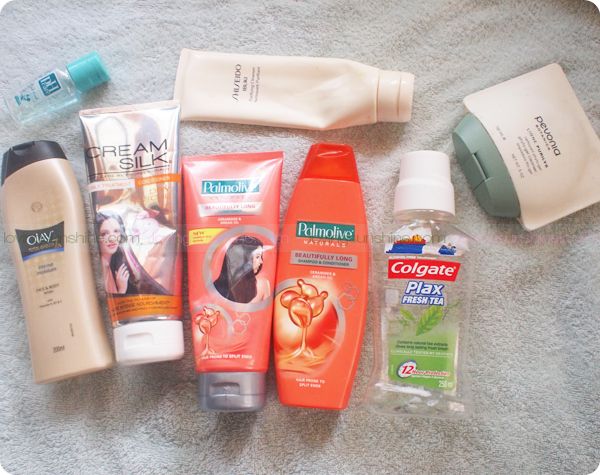 PH Care feminine wash Cool Wind
- I just have a 30ml bottle in this month's empties because it's what I used while I was hospitalized--yes, I was hospitalized last month. Anyway, I'm not a big fan of PH Care for everyday use, my go-to feminine wash as of late is still Saforelle (which was in my
September empties
).
Olay Face and Body Wash*
-
LOVE this body wash so much. I went through my bottle super fast because it was such an indulgent cream wash to use in the shower. To describe it, it's like using lotion to wash the body. It was truly creamy... but it does foam up and lather really well! A little goes a very long way. I wrong about
Olay Face and Body Wash here
.
Cream Silk Daily Treatment Conditioner*
- I got this tube from my
September BDJ Box
. Though I've used this product even before, I thought of using it immediately because being hospitalized left my hair completely dried out--LIKE SUPER DRIED OUT! Fortunately, this number's very effective. Just two uses of this deep treatment conditioner completely helped my hair recover!
Palmolive Naturals Beautifully Long Shampoo and Conditioner*
- The past two months, I've been loving my dose of Palmolive Naturals hair care. Well, I've been a Palmolive Naturals girls since college (
post here
), but this variant is the star of my October because it's my first time to use it, and I emptied it so fast! It smelled super good, and the argan oil in this variant also helped replenish the lost moisture in my hair.
Shiseido Ibuki Purifying Cleanser*
- Oh my, it took me forever to finish this facial wash. I used it in phases. Sometimes, I like it because it cleanses my very oily face so thoroughly, but on days my skin's a bit dry, I skip on this wash because it ends up too harsh on my skin. Last month, this was a very reliable wash because I needed to return the moisture balance of my face--having gone through a very drying week at the hospital!
Shiseido
skincare always saves the day!
To shop this item, click this: Shiseido Ibuki Purifying Cleanser
Colgate Plax Fresh Tea
- This so far is the most popular
mouthwash
in my regimen. I've gone through so much bottles already, and I don't see myself stopping from using this. In fact, I just bought a new one! I really love
Colgate
Plax because they complete my brushing routine so flawlessly. They also don't sting to the extent of pain! If you're looking for a gentle but effective
mouthrinse
, please do try Colgate Plax. Best flavor for me is Fresh Tea!
To shop this item, click this: Colgate Plax Mouthwash Fresh Tea
Pevonia Phyto-Gel Cleanser
- First things first, Pevonia is one of the few skincare brands that I can say I really really love. My top Pevonia pick is their facial scrub. I LOVE it oh dear. I've gone through two bottles, and going through one is a feat since a little truly lasts long! Anyway, for a review on this product,
please read this post
.
To shop this item, click this: Pevonia Phyto-Gel Cleanser on Amazon
What do you think?
Comment below with items you're also using, or have used too!