Burt's Bees from the Sephora Philippines Hive
Hello Sunshine! Today's a very happy day because FINALLY, I confirmed that March 31 is my best friend's birthday!!! For so many years, I've been forgetting when her birthday was... and I've been guessing-slash-greeting her three times when it's March! But this year's different, because I finally confirmed the date. Even better, I have a pretty awesome gift for her, thanks to a pretty awesome girl who helped me source the gift of all gifts.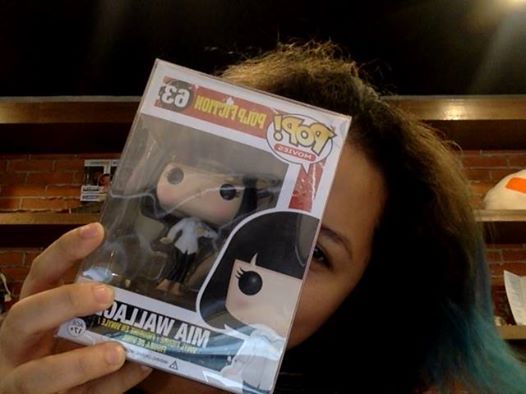 Mia Wallace Funko Pop, you elusive little devil, you.
So aside from my best friend's birthday, I finally found the time to take my new
Burts' Bees skincare
out for a spin. If there's anything you should know about me, I freaking LOVE Burt's Bees. L-O-V-E
I remember when I went to Singapore last year, even if Burt's Bees skincare is available in the Philippines, I still bought me some of my favorites from Sephora! I cannot be tamed of my Burt's Bees fixation.
Speaking of Sephora, I enjoyed a little Burt's Bees skincare shopping in
Sephora.ph
two weeks ago! Here are the items I bought.
I got the
Burt's Bees Daisy White Facial Cleanser (
Php 895) to try, because if there's any product category from Burt's Bees that I have to choose, it would be their facial cleansers. My all-time favorite is their cream cleanser, which I bought a back up off from Sephora Singapore. But, while shopping at Sephora Philippines website, I figured, it's time to try something new.
I also ventured trying their
Anti-Blemish Purifying Daily Gel Cleanser
(Php 995). It was my first time to see this product and I was absolutely sold with the "anti-blemish" part. While I'm not a huge fan of gel cleansers--and gel moisturizers--I'm looking forward to how this cleanser would help improve my skin; especially since lately, stress has been creeping up!
Of course, I couldn't resist myself a trusty little tube of eye cream (my skincare weakness), and a good promo! At the time when I bought my Burt's Bees stash, they were giving away a premium travel-sized bottle of the
Intense Hydration Nourishing Facial Water
(Php 1,250). This facial water is not like your ordinary toners because it really does feel like it's just water!
If you have dry skin, you should check out
Burt's Bees Intense Hydration line
, which I detailed
here
. Overall, I think with summer creeping in, my skin is well-nourished and pampered to replenish moisture taken away but the hot hot hot days to come!