Adore Splash Colognes
Hello Sunshine! Or should I say, rainbows because of today's colorful
kikay
topic--
Adore fragrances
*.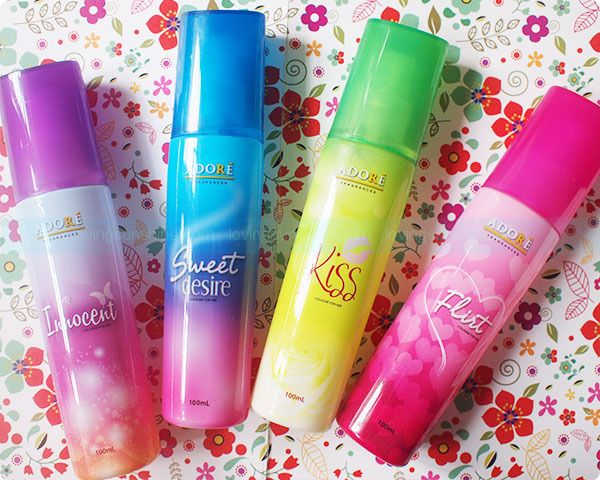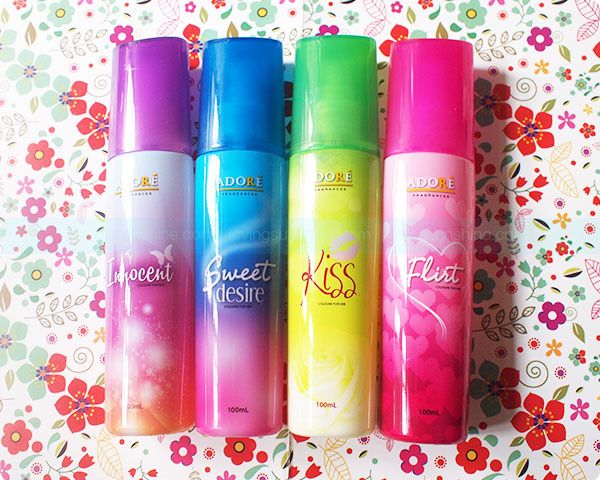 Lately I've been very much into fragrances, probably because of the changing season. Obviously, summer's my favorite of them all so when rainy season kicks in, I subconsciously try to find ways of keeping my sunshine lit.
This year, it seems that fragrances are my go-to summer-retainers. That's because of the
Adore fragrances
that I got from
Sample Room
. I got four: Innocent, Sweet Desire, Kiss, and Flirt.
Innocent
is a soft powdery musky scent that is inspired by Disney's Hannah Montana (OMG! LOVE!). I think it's not a very popular go-to scent but I have my days when I want a warm dry fragrance to balance out my usually perky self. It is described as fruity, floral and sweet--but I find it hard to find its fruity notes. Instead, for some weird reason, Innocent makes me think of lavender and all sorts of relaxing things so to no surprise, I use Innocent at night. It works best for me during sleep time.
Get free sample
Sweet Desire
as the name suggests, is a sweet fragrance. It's inspired by Beyonce's Heat Rush (QUEEN!) and it has tropical notes that oddly enough makes me think of summer dresses! I think it's very feminine and jolly. It's definitely a day time fragrance.
Get free sample
Kiss
on the other hand is a more aquatic scent. It's inspired by Desire Blue by Dunhill--a perfume that I used before. I love how it's very fresh yet offers a woody kick. It makes me think of mornings in the mountains (yes I'm referring to Sagada), where everything is just so positive and energized. This too is a day time fragrance. I think it's great for outdoorsy people who wants a refreshing splash every now and then.
Get free sample
Flirt
is a musky white floral scent inspired by Gap's Heaven. I love how this cologne smells very clean, pure, and light. It definitely wasn't the scent I expected from a bottle that's screaming pink and is named "flirt" :) But, I'm very happy with the twist. It goes to show that you really shouldn't judge a bottle by it's cover!
Get free sample
Over-all, my ranking based on my most loved Adore splash cologne is Kiss, Flirt, Sweet Desire, then Innocent. I gravitate to Kiss the most because of its simplicity and its versatility. I feel like, it's the cologne that can match most of my moods among the four! It's also the kind of fragrance that makes me think of just throwing on a basic white shirt and shorts, wear flip flops and shades, and just chill--like I would on a lazy summer day
All Adore splash colognes are only Php 99.75! So if you're looking for a cologne to try, it's a pretty much a no-brainer decision when shopping through Adore fragrances. Get one, or get all. :) For more information, visit
Adore Fragrances on Facebook
.
What type of fragrance do you like?
Don't forget to get your free Adore fragrance FULL-SIZED samples on Sample Room!