Very Summer Fresh with Avene
Hello Sunshine! Wow! It's super hot lately right? We're halfway through summer and boy am I thirsty for some beach activities!!! I haven't had an out of town trip, and don't seem to have any plans coming up anytime soon, but oh well... at least my skin isn't thirsty for skincare. Why? Because I managed to score myself some
Avene
* treats that are essentially summer must-haves indeed!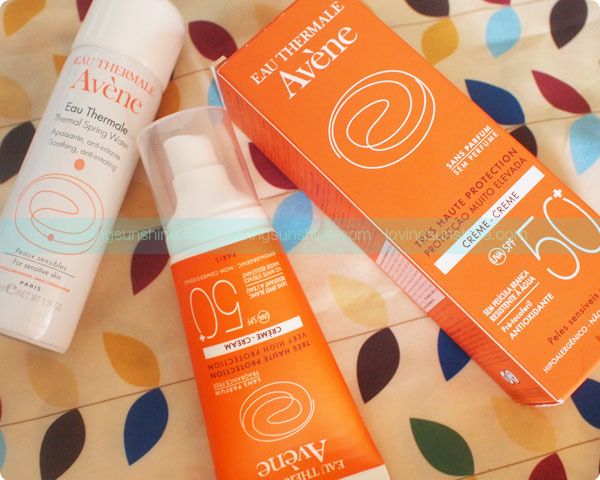 Avene Thermal Spring Water Spray
I use the Avene Spray as a face mist to set my makeup almost every day lately. It really helps keep my makeup in tact, I don't know why! MY guess is because lately, I've been using powder foundation. Based on my online research, using a face mist to set makeup helps prevent powder from setting into the fine creases of the skin; thus a more flawless finish, longer.
Aside from my way of using the Avene spray, there are of course its more usual usage instructions. This spray is generally used as a soothing mist. It can be applied during travel, after exercise, after a surgical procedure, and after hair removal. I've tried it after hair removal myself and it felt really nice and refreshing to the skin. Unique to the Avene spring water, this mist can also be utilized for facial redness, razor burns, sunburns, damaged skin, diaper rash, itching and make-up removal among others. Because of its purity and mildness, it can be used as often as necessary, even at the mucus membrane and the eyes. Super
galing
!
Aside from the spray, there's another perfect-for-summer Avene product range that should get you excited--like I am! Watch this video:
Avene Very High Protection Cream SPF 50
The Avene SPF leaves absolutely no white streaks and is water resistant so you don't have to worry about it melting with your sweat. I've been trying it out and I feel like it dries faster on my skin than other sunblocks I've tried. It does feel thicker or heavier than my Kiehl's go-to sunscreen, but the Avene SPF boost sun protection with additional skincare properties such as its anti-oxidant infused formulation.
Their SPF is paraben-free so very suitable for sensitive skin; likewise, it's also rich with the soothing and anti-irritating properties of the Avene spring water so it's nice on very dry skin!
Eau Thermale Avène originated from Avène, a small town in the South of France that is famous for its thermal spring with "healing water." Fast forward to today, given its medical properties that are precisely targeted towards different skin types or complaints, the Avène thermal spring water has been an active ingredient in all of the products of the brand – from cleansers to sunscreens. Eau Thermale Avène is be available on selected Watsons and Mercury Drug outlets.
Do you use face mists or SPF too? Share them with me!