How to be a Sunflower Bae
Hello Sunshine! If you've been reading through my blog, or you know me in person, you're probably very aware that my favorite color is green--and that my favorite thing in the world are sunflowers. So, today I figured, why not shop for a look that will remind me of these two favorites. Here's the
sunflower inspired
must-have that I came up with!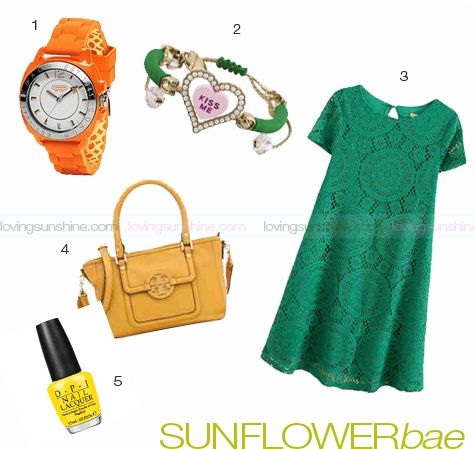 1. Coach Orange Silicon Boyfriend Watch $150.
I had a watch phase when I was in high school, and I seem to have lost it ever since my phone and became detachable. But there's still something about having a statement watch that can really amp up an outfit. I think it's because less people wear watches, so when you see one it speaks louder? I'm not sure. But for this set, I looked for a bright statement watch because I want the hands (or at least one hand/arm) to really be elaborate and very sunflower-y.
Click for more iPriceShop Coach items
2. Betsey Johnson Kiss Me Charm Bracelet $105 $52.50.
I love Betsy Johnson so much. I think she's very cool, and her designs are always young and fun! So I chose this Kiss Me charm bracelet -- because it was in super sale -- to add a punch of green as a complement to the bright orange statement watch!
Shop Betsey Johnson items on sale
I'm never the body-con type of girl, because I have my bulge issues
haha
but apart from that, I've always associated sunflowers to fields where you can just be free, jump around, etc. So a loose dress would be perfect for this look, right? But I want it to be very sophisticated, so I looked for a lace dress that also matches the funky charm bracelet in this set.
It also doesn't hurt that the dress is on super sale too!
4. Tory Burch Mini Satchel Honey Mustard Bag $598.
This is the most expensive item in my Sunflower bae set. For good reason, because it's a Tory Burch item. Now, here's a little clue. I am huge on Honey Mustard as a fashion color. I love it on shoes, sandals, accessories, and of course, bags. I think it's a very unique color to pair with statement blacks, or even bright clothes. It's subdued yellow is warm and homey. I love it a lot.
See other Tory Burch items
I realized that this set has a lot of contrasting points. While I have my warm choice of bag color, I'm ending it with a super bright yellow nail polish from OPI! Why? As I've mentioned earlier, I wanted a sophisticated casual look. However, I can't let a "sunflower" inspired anything pass without throwing in a bright yellow in it right? So the smart fashionista choice is to splash the yellow on the digits. This way, the out of the ordinary brightness of a pure yellow shade isn't overpowering.
What do you think?
Click the links above to check out the items I featured. For more finds, go to iPriceShop.