SkinWhite Advanced Whitening
Hello Sunshine! When it comes to skin whitening, I always keep two things in mind: moderation and responsibility. No, I'm not going to preach about loving your own color and all that jazz because I do love my color and my natural beauty, but what to other people is fashion, I have beauty. I don't usually dress up and accessorize to express myself. Instead, I go for reinvention! It's more tedious, granted; but it's what I enjoy doing most!
I want to be a chameleon in beauty. My statement is the unexpected, because I love embracing change and the unique little ways I can well, show my uniqueness too! So I venture into bronzing up one season, then whitening my skin the next. With the availability of multiple sciences from different brands these days, swinging from one look to the other is made more fun and safer for all experimental ladies!
So today, I will share with you my thoughts about
SkinWhite
! SkinWhite is a clinically proven whitening skincare brand that I've personally tried even back in college (maybe even high school!) and this year, I revisited them through Sample Room!
The golden rule of skin whitening: make sure to use SPF! When you prevent melanin, you essentially prevent your natural sun protection, so supplement it with the right sun protection whenever you lighten your skin!
Good call because they have more advanced skincare whitening systems now, that are truly worth a try!
Let me begin with the SkinWhite Advanced PowerWhitening Lotion with SPF20 and Syncrhowhite action, clinically proven to whiten skin in just 7 days! It has Advanced Tripower Technology that safely attacks the three stages of melanin production by 1) blocking UV rays from entering the innermost layers of the skin, 2) suppresses melanin production in case stray UV rays enter the skin, and 3) prevents the release of melanin to the surface of the skin to inhibit skin darkening.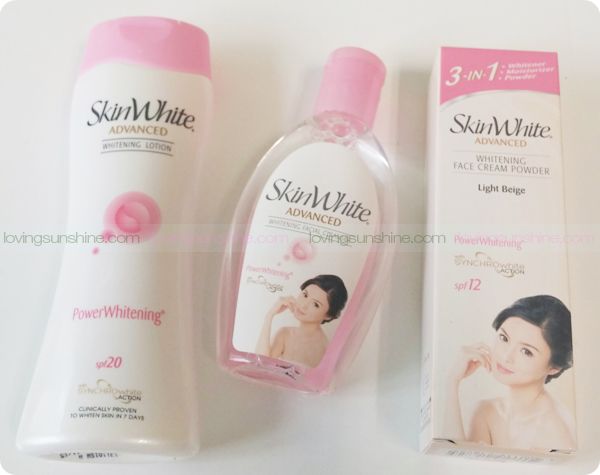 Awesome right? But remember what I said about moderation and responsibility. What makes
SkinWhite Advanced Whitening Lotion
* extra special is in its Vitanourish formula, which contains vitamins B3, B5, and E, and SPF 20. These add on skincare benefits and protection contribute in helping you get whitened skin to have and to hold, for better or for best!
Aside from the lotion, I especially adore using
SkinWhite Advanced Whitening Face Cream Powder
* in Light Beige with SPF 12! Truth is, when I was in high school, I have a more natural brown skin color. Then I used a similar face cream religiously, then saw the difference! Since then, I knew these face cream powder thingies actually work! But I had no sudden need to further whiten, so I just forgot about the magic of face cream powders!
Now is a different time though. I'm not as dark as I was in high school, but I'm also not as fair as I was when I did get fair skin. And I kinda miss having rosy cheeks so I felt the urge to use whitening face cream powders again.
Enter SkinWhite's 3-in-1 whitening face cream powder: it whitens, moisturizes, and leaves a natural matte powder finish on the skin surface; definitely 3 times the happiness all over the face!
It also has Advanced Tripower Technology like that of the body wash, the only difference is in the product format and SPF levels.
Before and after photo using SkinWhite Face Powder Cream
SkinWhite Advanced Whitening range has everything you need to get that covetable rosy white skin! It even offers the same whitening potency in the form of a creamy body wash, which is equally moisturizing!
So whether you want your face go be rosy and glowing, or you want to even out your entire body, there's a SkinWhite solution that you can try!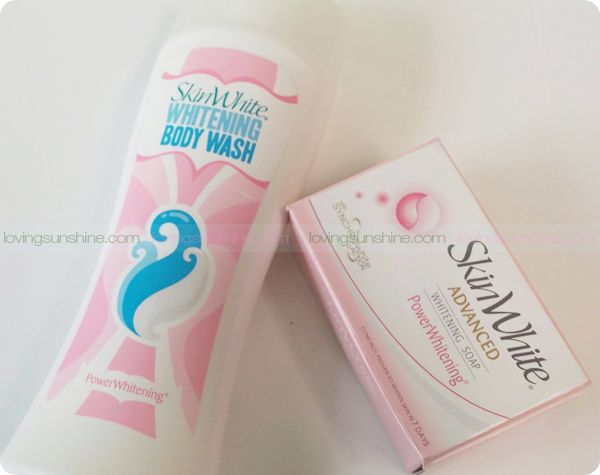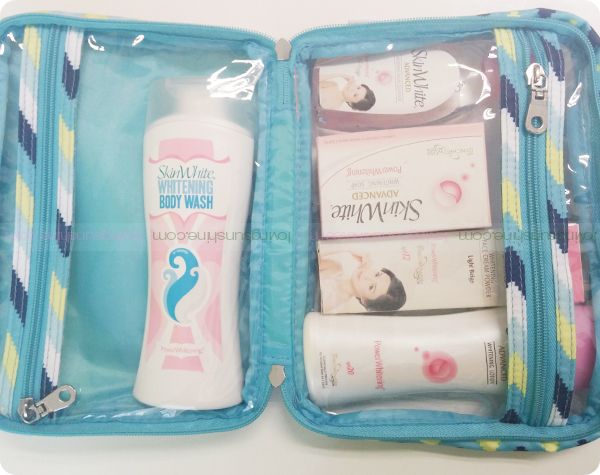 Don't you just love having such wonderful skin partners?